The Jefferson, Washington, DC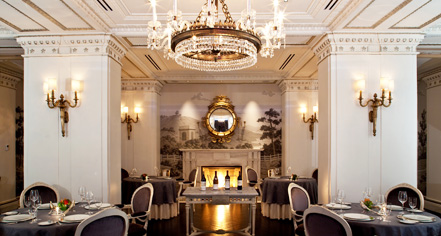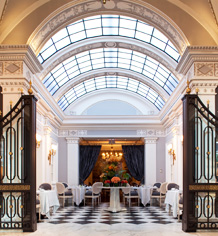 Dining
A renowned destination for Washington's finest dining, The Jefferson has been recognized for the exquisite cuisine of their lavish establishments.
Recipient of a Michelin star and the only Forbes Five Star rated restaurant in DC, Plume at The Jefferson, serves as a discreet and elegant backdrop to the culinary artistry of our skilled award-winning culinary staff. Guests are able to choose a cozy nook or a table by the restaurant's inviting fireplace as they savor classic dishes crafted using traditional techniques and seasonal fine dining menus, inspired by the harvest from Thomas Jefferson's kitchen gardens at Monticello. Plume's winelist spans more than a dozen nationalities and consists of over 1,300 labels, including the country's largest Madeira collection dating back to 1850.
Illuminated by the original 1923 skylights, The Greenhouse invites an airy and informal ambiance in a historic space where the seasonal menus are inspired by the harvest from the gardens at Monticello. In addition to serving refreshing breakfast, lunch, and dinners, The Greenhouse hosts weekend brunch.
Quill is Washington, DC's upscale lounge and cocktail bar offering an inspired mix of classic and signature cocktails, a dynamic wine list and an elevated bar menu. Steeped in Jeffersonian inspiration, Quill's parquet flooring recreates the pattern Jefferson had designed for Monticello's main salon, while a collection of 18th-century maps on the walls follow Jefferson's journey through the wine regions of France, Germany, and Italy. In warmer weather, guests can step out into the outdoor terrace to savor cigars and cognacs.