The Royal Hawaiian, A Luxury Collection Resort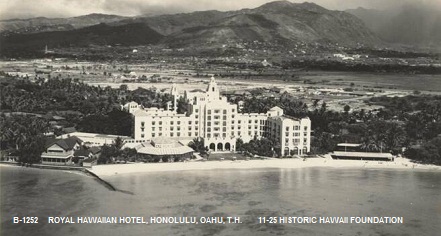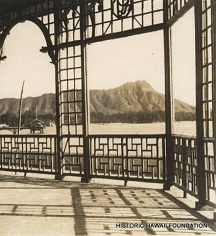 History
The Royal Hawaiian has had a remarkable history, from its original Matson Navigation ownership, through its pre-war glamour days, mid-war Navy turnover and post-war redevelopments, to the Starwood Luxury Collection Resort showcase it is today.

It has been said that The Royal Hawaiian, a Luxury Collection Resort, is the place where the world first fell in love with Hawai'i. Now, 88 years later, following multimillion dollar renovations and the opening of the reimagined Mailani Tower, a new romance has sparked. Come and discover the legend for what it was and what it is.
2015 Condé Nast Traveler Gold List
2015 Travel + Leisure World's Best Awards
2014 Historic Hotels of America Best Historic Resort
The opening of The Royal Hawaiian, a Luxury Collection Resort, ushered in a new era of luxurious resort travel to Hawaii. The original resort was built with a price tag of $4 million and was a six-story, 400-room structure, fashioned in a Spanish-Moorish style which was popular during the time period and influenced by screen star Rudolph Valentino. The site of The Royal Hawaiian boasts a majestic lineage. The area was used as a playground for King Kamehameha I after he conquered the island of Oahu. Queen Kaahumanu's Summer Palace was previously located in what is now the resort's Coconut Grove garden. During WWII, The Royal Hawaiian was leased exclusively to the U.S. Navy as a rest and recreation center for the Pacific Fleet. The resort reopened to the public in February 1947.

The inspiring and distinctive character of The Royal Hawaiian, a Luxury Collection Resort, is known throughout the world as a destination of unparalleled romance and luxury. The 'Pink Palace of the Pacific' emerged from a complete renovation of the historic building on January 20, 2009 as one of the world's elite collection of resorts for luxury and romance. The distinctive architecture and its rosy hue remain, as do the elegant details that nod to the resort's storied past. Now, however, 21st-century upgrades seamlessly meld with the thoughtfully chosen, classic design elements, creating a decidedly chic atmosphere that is still captivatingly Hawaiian. In late 2010, the Royal Beach Tower underwent a complete upgrade, bringing in state-of-the-art amenities and pristine elegance. The restored resort highlights the indigenous culture and history of the islands in its new guest programs, offering authentic and enriching experiences, refined service and an elevated ambiance of unrivaled facilities and location. In early 2015, The Royal Hawaiian, a Luxury Collection Resort launched a new, reimagined experience for the Royal Beach Tower, now referred to as Mailani Tower, with an exclusive lounge offering elevated continental breakfast in the mornings. During the sunset hours, beer and wine are served with hors d'oeuvres followed by a featured Luxury Collection cocktail demonstration.

The Royal Hawaiian, A Luxury Collection Resort, a member of Historic Hotels of America since 2011, dates back to 1927.