The Strater Hotel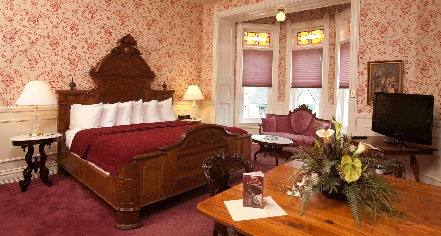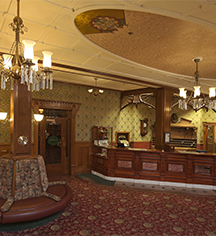 Accommodations
Offering 93 distinct guestrooms, The Strater Hotel accommodations are elegantly and beautifully decorated with authentic Victorian antique furnishings. Featuring various bed configurations, the hotel accommodates parties from one to six people. In the collection of guestrooms, the hotel offers three room types: Classic, Deluxe, and Premium. In addition, The Strater Hotel affords a Special Room Dedication Project where guests may request a particular guestroom to experience, such as the Louis L'Amour guestroom.
Classic Guestroom
Uniquely decorated and furnished, each classic guestroom is stylishly appointed with American Victorian antiques and modern conveniences. These delightful rooms are cozier in size and maintain the Old Victorian West experience and luxurious amenities.
Deluxe Guestrooms
Distinctly styled and furnished with spectacular and often rare antiques, Deluxe guestrooms are slightly larger in size than Classic Guestrooms and closer to the front of the hotel. Each Deluxe Guestroom is full of history and boast convenient luxuries.
Premium Rooms
Each premium guestroom is uniquely furnished and decorated—many named after a person or business that has had a substantial impact on Southwest Colorado and The Strater Hotel. These are the most regal of the hotel's guestrooms, with upgraded accessories such as bathrobes, small sitting areas with dining tables, and are generally located at the front of the hotel. These romantic rooms feature more elegant and elaborate wall coverings and window treatments along with larger bathrooms.
Guestroom Amenities
Air-conditioning
Cable Television
Clock Radios
Flat Screen Televisions
Individual Bathrooms
One-of-a-Kind Antiques and Furnishings
Private Tiled Victorian Bathrooms
Sound Machines
Voice Mail