Basin Harbor Club
Vergennes, Vermont
Fetch It!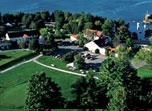 We know you don't want to leave the family pet home. We pride ourselves on providing cottage accommodations that are comfortable for you and your best friend.
Our Very Important Canine package includes the following:
Fleece blanket (perfect for crates, cars and vacations on couches)
Fetch It Toy
Doggie Cookies
A BHC collar to show off their vacation preference in style.
There are no special offers currently available.