Casa Faena
Miami Beach, Florida
Pet-Friendly Policy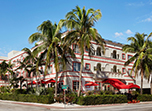 Contact the hotel directly to confirm a pet-friendly room.
Amenities: Dog beds, water bowls, and food bowls.
Restrictions: Dogs Only. Maximum weight: 70lbs.
Fees: No pet deposit; however, a fee may be assessed for any damage to a room caused by a pet.
There are no special offers currently available.