The Georgian Terrace
Atlanta, Georgia
Extended Stay Rate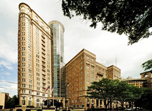 Stay more and save more at the Georgian Terrace. This rate is valid when guests stay for seven nights or more.
Stays less than seven nights will result in the rate being reverted to the prevailing RACK rate and an early departure fee will be assessed. Daily parking rate will be charged up to maximum of $150 for every 30 days stayed

Policies
changes or cancellations must be made by 6PM EST 24HR prior to arrival to avoid 1nt charge
A valid credit card is required at the time of the booking.
There are no special offers currently available.