Ojai Valley Inn
Ojai, California
Preferred Golf Exclusive Package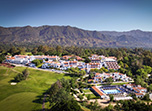 Enjoy accommodations, lunch for one at Jimmy's Pub, and one day of unlimited golf for one player.
Policies
Cancellation within 72 hours will be charged one night's room rate.
Credit card deposit equal to one night's room charge required at time of booking.
There are no special offers currently available.