Omni Bedford Springs Resort & Spa
Bedford, Pennsylvania
Pet-Friendly Policy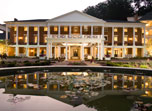 Contact the hotel directly to confirm a pet-friendly room.
Amenities: Pet room service menu.
Services: Rooms specifically designed with pets in mind. Pet-sitting.
Restrictions: Maximum amount: 2 pet per room (more if preapproved).
Fees: $150 (non-refundable cleaning per stay per room) ($175 if over 50 lbs).
Other: Extreme or wild animals must be preapproved by General Manager.
There are no special offers currently available.