Antrim 1844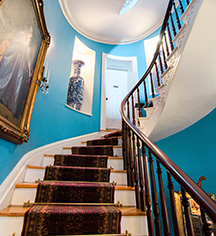 History
Antrim 1844 was built by Col. Andrew Ege (1813-1876) on land inherited by his wife, Margaret, from her father Major John McKaleb. This magnificent estate was named in honor of the McKaleb's family ancestral home in County Antrim, Ireland. Truly an American treasure, Antrim 1844 exemplifies a quintessential Greek Revival Mansion with historic influences.
George Washington Clabaugh bought Antrim 1844 in 1873. His son, Harry Morris Clabaugh, was elected Attorney General Maryland and was appointed Chief Justice of the Supreme Court by President Roosevelt in 1903. Miraculously, most of the original outbuildings, the Carriage House, the Ice House, the Post House, the Summer Kitchen, the Brick Kitchen, the Overseer's Wing, the Barn, the Spring House, and even the brick double-sided Outhouse, are still intact today.
In 1987, Dorothy and Richard Mollett saw Antrim for the first time and instantly fell in love with the property and its rich history. After purchasing Antrim, Dort and Richard's mission was to restore the property to its original splendor. In October of 1988, Antrim 1844's mansion opened its first and second floors as a bed and breakfast with four handsome guestrooms; a peaceful respite from the hustle and bustle of life within close proximity to Baltimore and Washington, DC. Over the last 30 years, Dort and Richard have restored, expanded, constructed, and reconstructed many different aspects of the property. With the purchase of five additional houses on the adjoining Mill Avenue, Antrim 1844 currently enjoys the distinguished honor of serving as a luxurious, 40-room boutique hotel with an award-winning fine dining restaurant and expansive wine cellar.
Antrim 1844 was listed on the National Register of Historic Places in 1977.
Antrim 1844, a member of Historic Hotels of America since 2007, dates back to 1844.