Boone Tavern Hotel of Berea College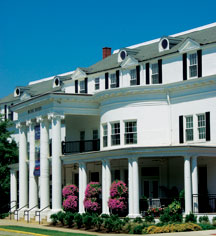 Dining
Fine dining at Boone Tavern has drawn much international acclaim. Whether you prefer traditional or creative southern cuisine, you will find palate pleasing fare in Boone Tavern's historic dining room.

Lunch offerings let you choose from a variety of salads, unique sandwiches and hot entrées. Evening meals offer an array of delightful appetizers, salads, entrées and desserts. Historic menu favorites like "Chicken Flakes in a Bird's Nest" and the well loved "Spoonbread" are fixtures in the restaurant. Don't forget to ask about our new signature dessert that is sure to be a favorite for years to come.

Rediscover southern cuisine with Executive Chef Jeffrey Newman. Chef Newman is a native of Lexington, Kentucky and studied at the Culinary Institute of America in New York. He uses a fresh approach with a style that is described as New American.

Boone Tavern has long been recognized for fine dining. The Duncan Hines Excellence in Hospitality Award was presented to Boone Tavern in 2003. The prestigious award is named for restaurant critic Duncan Hines whose name is still associated with excellence in fine dining and who included the historic dining room at Boone Tavern consistently in his travel and restaurant guide books. The Kentucky Tourism Council states, "Boone Tavern has been a hallmark in the hospitality business for nearly a century. After all these years, it continues to be a favorite destination.

Dining room attire is tastefully casual and reservations are required for groups and evening meals.

Boone Tavern works in tandem with Berea College utilizing the Student Labor Program to staff the hotel. As you dine, most likely your waiter or waitress will be a Berea College student. Students work 10-15 hours per week while carrying a full academic load. Since 1855, all of Berea's 1500 students are employed in one or more of the 140 work areas at the college.