Georgetown Inn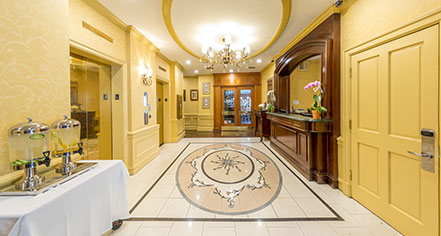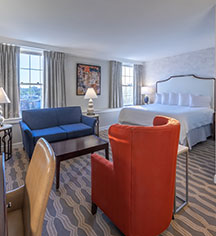 History
Georgetown is the oldest neighborhood in Washington, DC. In fact, it predates the capital city by about 40 years. Established in 1751 as part of the Province of Maryland, Georgetown served as a successful shipping center to the region for many years and by the late 18th century, it was the biggest tobacco exporter in the country. Other buildings such as warehouses and a foundry were also built up along the Potomac River, turning Georgetown into a thriving port town.
In 1789, Georgetown was officially incorporated and three years later, when Washington, DC was established, it became an independent municipal government within the District of Columbia. The 19th century brought further economic success with the construction of the Chesapeake & Ohio Canal, which spanned 184.5 miles along the Potomac River to Cumberland, Maryland. The C&O Canal, as it was also known, was a coal and freight-carrying waterway. Georgetown continued to be a central and vital shipping center for a variety of goods.
In 1959, the illustrious President of the American Mortgage Investment Company—Sheldon Magazine—boldly announced his intention to create an opulent hotel nestled within Washington's historic neighborhood of Georgetown. Magazine yearned for a grand establishment in the area that could properly cater to the city's teeming population of noteworthy visitors. Taking nearly three years to complete, Magazine's glorious new venue debuted as the "Georgetown Inn" before an enthusiastic crowd on May 21, 1962. At the time of its opening, it was the first new hotel in Georgetown in over one hundred years. With room rates starting at $22.00 a night, it was the most expensive hotel in the city at the time. A massive, four-day-long party ensued to inaugurate the sumptuous building, culminating with a jovial toast of the finest champagne.
For the next several decades, Georgetown Inn emerged as a prominent destination for the rich and famous. The first of many well-known international dignitaries to reside at the hotel were the Duke and Duchess of Windsor, who are considered to be the Georgetown Inn's first official guests. The location also became a haunt for numerous Hollywood celebrities, such as Marlon Brando, Robert Mitchum, and Elizabeth Taylor. The hotel maintained this luxurious appeal under the supervision its first General Manager, Collins Bird. A transplant from Georgia who hailed from a family of hoteliers, Bird quickly garnered a following among Georgetown Inn's famous clientele for his brilliant temperament. Many of the hotel's distinguished patrons, such as former United States Vice President Hubert Humphrey, sojourned to the location in large part to meet with its spirited innkeeper. Today, the Georgetown Inn is once again a prominent destination in downtown Washington.
Georgetown Inn, a member of Historic Hotels of America since 2019, dates back to 1962.