Hotel Boulderado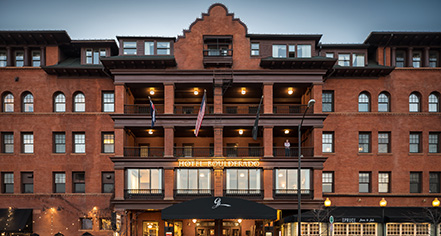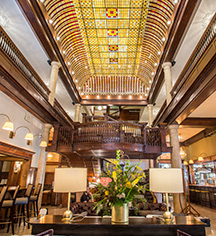 Overview
The Hotel Boulderado name was created by merging Boulder and Colorado, a memorable mutation of its host city and state that captures the inviting qualities of both locations. The mountain hotel sits within the downtown historic district, enveloped in Boulder's hip small-town chic, while the imposing conical peaks of the Rocky Mountains surround the city. The construction of the Boulderado - Boulder's first luxury hotel - was funded by a generous stock subscription service, and when it opened on New Year's Day 1909, it was an instant success.
Hotel Boulderado's vibrant five-story Italianate brick exterior stands out against the stunning Rocky Mountain foothills backdrop. The 1909 mosaic tiled floor, the original Otis elevator, the five-story cantilevered cherrywood staircase and the lobby's stained-glass ceiling captivate visitors and guests. Today, Hotel Boulderado has 160 modernized guestrooms and suites, including 42 that retain a taste of Victorian extravagance. Groups of every size have enjoyed utilizing the 10,000 square feet of flexible meeting and celebration space. On-site dining options include local farm fresh selections from Spruce Farm & Fish, casual American cuisine at The Corner Bar, and craft cocktails at the speakeasy style bar License No. 1.
Hotel Boulderado embodies the charming and admittedly quirky character of its hometown, creating an experience that is authentically Boulder. The downtown Pearl Street Pedestrian Mall is one block away, multiplying dining and shopping choices. But no one will find fault if guests stick to their rooms, intoxicated by the views of the Rocky Mountains from their window.
Hotel Boulderado, a member of Historic Hotels of America since 1996, dates back to 1909.
Generous stock subscriptions funded the five-story Italianate brick building's construction at a cost of $131,664.
Original Property Opened: 1909
Historic Hotels of America toll-free reservations number +1 800 678 8946

Location
2115 13th St
Boulder, CO 80302

Check-in time: 4:00 p.m.
Check-out time: 11:00 a.m.



Hotel Amenities & Policies
Accessible Rooms: Accessible rooms are available. Please notify request at time of booking.
Age Requirements: Guests are required to be 18 years or older with photo identification to reserve a room and check-in.
ATM: Available.
Cancellation Policy: Depends on dates booked.
Cribs and Pack 'n Plays: Available upon request; complimentary.
Early Check-In/Late Check-Out: Available depending upon availability.
Extra Person Fees: Extra-person charges apply; $15.
Hotel/Resort Fees & Taxes: Taxes: 8.99%.
Occupancy Restrictions: Five per room.
Parking: Valet parking available.
Payment: All forms of payment are accepted. Payment is required at time of booking. Visa, MasterCard, Amex, and Discover are accepted.
Pet Policy: Service animals allowed: Yes. Pets allowed: Yes. Dogs Only. Amenities: Dog bed, food, bowls, and single turn down chew bone included in package.
Rollaways: Available upon request; surcharge ($15).
Smoking Policy: Non-smoking property.
Transportation: Shuttle Van and Rolls Royce Silver Shadow II car service may be arranged through the front desk; rates apply.
The above list may not be comprehensive and information is subject to change without notice. Fees and deposits may not include tax. Taxes, fees, deposits, and policies are subject to change without notice.
Turn of the Century, 1896 ~ 1913
The Hotel Boulderado name was created by merging Boulder and Colorado, a memorable mutation of its host city and state that captures the inviting qualities of both locations.
Learn more about the History of Hotel Boulderado .