Hotel Boulderado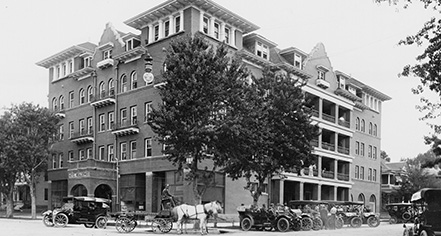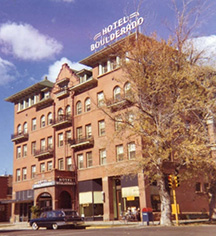 History
Designed by local architects William Redding & Son, the five-story brick building incorporates both Italian Renaissance and Spanish Revival features. It follows a trend of open court hotels started by the Palace Hotel in San Francisco.
In the early 1900s, Boulder was a Western frontier town growing into a small city. Community members worked to raise the funds to build Hotel Boulderado, Boulder's first luxury hotel. Hotel Boulderado opened its doors on New Year's Day 1909 and has withstood the test of time through prosperity in the 1920s, the Great Depression, post-war modernization, and restoration in the 1970s and 1980s. The stained glass canopy ceiling above the lobby underwent a second renovation in 2004. All guestrooms and suites in the North Wing and the Event Center were beautifully remodeled and updated in the spring of 2016.
Early guests included conservationist Enos Mills, actress Ethel Barrymore, actor Douglas Fairbanks, Sr., and evangelist Billy Sunday. Some who followed were Clarence Darrow, Helen Keller, Robert Frost, Benny Goodman, and Louis Armstrong, as well as a generous representation of today's political figures, speakers, entertainers, and musicians.
Read more about the history of Hotel Boulderado in Legend of a Landmark: A History of the Hotel Boulderado.

Hotel Boulderado, a member of Historic Hotels of America since 1996, dates back to 1909.