The Dunhill Hotel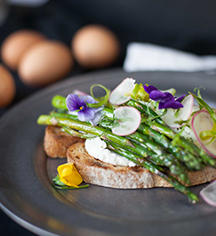 Dining
Named in honor of Louis Asbury Sr., the Charlotte architect who designed the Mayfair Manor - now The Dunhill Hotel - in 1929, The Asbury restaurant celebrates the best of what the South has to offer in ingredients, technique, creativity, and, of course, hospitality. The Asbury is a tribute to the city's Southern roots and the culturally diverse community of the New South.
The Asbury offers dishes that are uniquely Carolinian: modern but rustic, evolving but still rooted in the classics, southern and welcoming. There is a strong tie to heirloom ingredients native to the area, lost to time and modernization, as well as specialty items grown by small, family farms throughout the local region.
The Asbury serves lunch and dinner seven days a week, and brunch on Saturdays and Sundays. The Dunhill Hotel Bar features a selection of bar bites from the restaurant as well. In addition to the ground floor restaurant space, The Asbury caters unique, private dining experiences and hosts special events throughout its intimate second floor.
Hours of operation
Monday – Friday, 11:00 a.m. – 10:00 p.m.
Saturday & Sunday, 9:00 a.m. – 10:00 p.m.