The Hotel Hershey®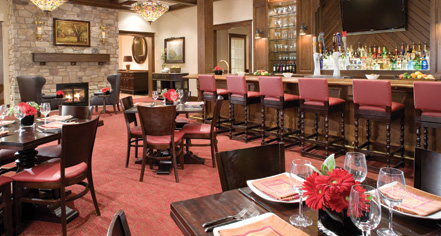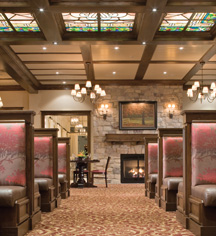 Dining
Experience the culinary delights of The Hotel Hershey at a variety of dining establishments featuring refined fare and exquisite service. The original purveyor of the Hershey's chocolate brand, the hotel allows for indulgent cuisine experiences among a refreshing dining ambiance.
Serving iconic American cuisine with a twist of innovation, The Circular at The Hershey Hotel boasts an inviting atmosphere in a unique circular setting. Offering a diverse dining experience, diners can enjoy small plates and drinks in groups or with an intimate and romantic meal overlooking the stunning surroundings.
Formerly The Fountain Cafe, Trevi 5 boasts a modern spin on traditional Italian dishes, inspired by five-flavor combinations, set in elegant Mediterranean decor and style. Featuring a grand selection of small dish appetizers, this unique dining experience affords fresh pastas, an extensive wine list, and classic Italian desserts alongside signature chocolate creations. Guests can also enjoy dining outdoors, in true Mediterranean fashion.
Utilizing fresh local and regional ingredients, Harvest offers a creative variety of traditional American cuisine along with celebrated daily specials. Serving a variety of microbrews, hand-crafted cocktails, and an American wine list, the restaurant boasts a friendly, casual ambiance with an adjoining bar and adult game room, lending breathtaking views.
Furnished with hardwood decor, comfortable seating, and a cozy fireplace, the Iberian Lounge boasts the ideal setting to enjoy live weekend entertainment and premium beverages.
Serving specialty coffees, lattes, espressos, gourmet pastries, scrumptious chocolate desserts, and Hershey's Hot Chocolate, Cocoa Beanery is a refreshing way to start a day.