The Sagamore Resort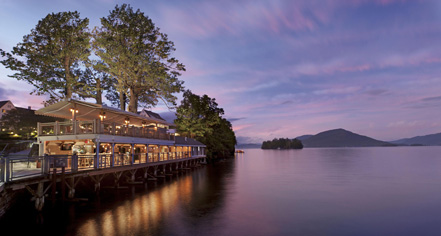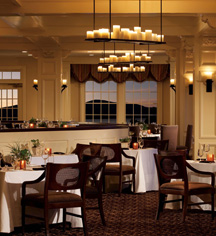 Dining
Boasting a collection of six distinctive restaurants, The Sagamore Resort offers culinary options throughout the resort from the gracious fine dining restaurant to convivial pub and lakeside cafe. In every dining establishment, guests will enjoy award-winning cuisine, with regional and exotic specialties, all with the finest ingredients.
La Bella Vita
Celebrating the passion for the good life and good food, La Bella Vita uses the freshest ingredients - with an emphasis on garden-grown vegetables and healthy olive oil - to prepare the same wonderfully flavorful centuries old dishes only Italians can make.With spectacular lake and mountain views, La Bella Vita is reminiscent of the tiny harbor towns and villages along the Italian coast. The service is equally engaging and generous, the perfect setting to embrace the warmth of family and friends and the comfort of good food.
Club Grill Steakhouse
A New York-style steakhouse with spectacular views of the Donald Ross Golf Course and the Adirondack mountains, the Club Grill Steakhouse affords casual dining in a spectacular setting. The Club Grill patio provides a spectacular mountain view and features grilled specialties for lunch and dinner.
Caldwell's
Sit back and relax at Caldwell's where guests will enjoy glimpses into an era when life was much simpler and slower. The warm cozy fire-lit lounge and long oak bar extends out to the grand front porch with panoramic lake views.
The Pavilion Lakeside Dining
Ideal for a lakeside lunch or dinner, The Pavilion offers an array of salads and sandwiches for lunch, as well as a la carte entrees, appetizers, and desserts for a casual dinner.
Veranda Terraces
Recalling the easy-going time of another era, where friends and neighbors sit out on front porches in rocking chairs and everyone has a kinship with the lake and the wonders of nature, the Veranda Terraces offers delectable lighter fare to complement the relaxing setting.
Mr. Brown's Pub
Casual dining in an Adirondack setting, Mr. Brown's Pub is named after Myron O. Brown, the first General Manager of The Sagamore. This relaxing establishment offers a friendly atmosphere and after hours nightlife.
The LakeHouse
Take a front row seat and sink into the irresistible atmosphere of this quintessential lakefront hot spot offering spectacular views of the lake. This open air venue with bar and wrap around deck under the canopy of a giant oak provide the perfect gathering place to celebrate life at the lake with family and friends. Enjoy refreshing and invigorating cocktail concoctions along with delicious casual light bite offerings throughout the day or unwind with sundowner cocktail into the evening.
Splash Pool Bar
Located next to the outdoor heated pool with sweeping views of Lake George, the Splash Pool Bar serves lighter fare and creative libations while guests soak up the sun and savor the lake breeze.