The Skirvin Hilton Oklahoma City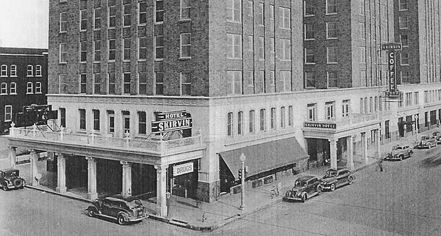 Ghost Stories
Though Bill Skirvin's heart belonged to his Oklahoma City hotel, he couldn't escape the lure of booze and women.
It is rumored that Skirvin had an affair with a maid named "Effie." She became pregnant with his child. In order to avoid shame and embarasment, Skirvin locked her up in a room on the 10th floor.
Naturally, Effie became depressed and was kept in the room even after the birth of her child. In a fit of madness, Effie jumped out the window, killing herself and her child.
However, there was no mention of this incident in the papers.
Effie was known as a woman with "loose morals" and guests of the Skirvin Hilton Hotel have reported being propositioned by a female voice while alone in their rooms. Over the years, hotel staff have reported objects moving by themselves and strange noises at night.
Even the NBA is plagued by the ghost(s) of the Skirvin Hilton Hotel. Whenever there is a game in Oklahoma City, various teams report cases of hauntings.
In 2010, The New York Knicks famously blamed their loss to the Oklahoma Thunder on the haunting. ESPN's Bill Simmons claims to have been awoken by a baby's crying. Specifics of what happened were not detailed. The Chicago Bulls reported doors slamming shut and strange sounds outside of the rooms. In 2012, the Skirvin Hotel hauntings received national attention again when the Miami Heat stayed there for the NBA Finals.