The Stanley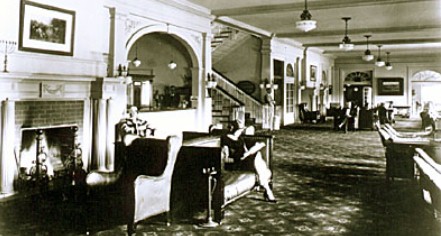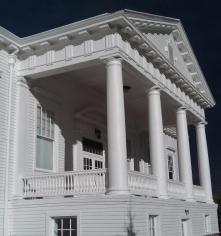 History
Estes Park, Colorado was forever changed in 1903 with the arrival of F.O. Stanley, of Stanley Steamer fame, and his wife. Stanley had been suffering from consumption and moved West to reap the benefits of the mountain fresh air. He was very weak and ill upon his arrival, but soon, the mountain air worked it's magic and he grew stronger within a year.
Stanley, used to the comfortable, luxurious amenities of the East Coast, found that this beautiful mountain area didn't have anything to offer those with more means. So, once his health was restored, he purchased 160 acres of land from Lord Dunraven and built what is now known as the main building of The Stanley. He built a total of 11 buildings on that acreage and many of those original buildings still remain in use.
F.O. Stanley was largely responsible for the tourist attraction Estes Park is today. He was so smitten with the area that he wanted everyone to be able to enjoy its splendor, beauty, and restorative health benefits in comfort. He built a road from Lyons, which he used to haul visitors in his "motorbus" to and from the hotel to the rail stations.
By 1940, Stanley had established his grand hotel, as well as built a sewer, power, and water company and Estes Park's first bank. Stanley may have developed the area, but just enough for humans to appreciate the dramatic nature around them. He is also responsible for promoting the establishment of Rocky Mountain National Park.
Through the years, the hotel flourished under the reign of F.O. and his strong partner and wife, Flora. However, by the 1970s, the hotel's splendor had faded and it gained a notorious reputation for being haunted. It might have even been torn down if not for a happenstance visit by novelist Stephen King. He stayed one night and said he had the worst nightmare of his life. He work up, terrified, and started writing. Shortly after, he says he had the bare bones structure of what was to become The Shining.
The Stanley has fully embraced it's paranormal activity. Guests can embard on ghost tours and learn about the history of the Stanley and understand the reason for the suspected paranormal activity. If guests would like to go one step further, psychic services are available on the premises.
Since then, The Stanley has undergone several renovation keeping with the architectural integrity of the early 20th century. The historic landmark hotel offers 140 guest rooms, 14,000 sq ft of meeting and event space, offers unique and unforgettable backdrops for weddings, is equipped with modern day amenities and conveniences, and not to mention the spectacular natural beauty surrounding the hotel. The Stanley, on many levels, is surely one for the bucket list.

The Stanley, a member of Historic Hotels of America since 2005, dates back to 1909.