Union Station Hotel Nashville, Autograph Collection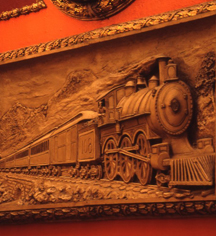 History
At the turn of the century, when rail travel was considered special, passengers dressed in their Sunday best, and train stations were built to be grand, beautiful buildings resembling something more along the lines of a modern day castle.
During the glory days of rail travel in the U.S., the Nashville, Tennessee Union Station definitely saw its share of glamour. Movie starlet Mae West passed through, as well as notorious gangster Al Capone who was escorted through Nashville on his way to the Georgia penitentiary.
Nashville's Union Station opened to the public on October 9, 1900. An architechturally marvelous Gothic-style, late Victorian Romanesque Revival style building, it featured lofty towers, turrets, and served as a testament to U.S. ingenuity and excitement for the new century.
As rail travel fell out of fashion, the station was abandoned and fell into disrepair. Train service was finally discontinued in October 1979 and the station was completely abandoned. As the building was designated as a National Historic Lanmark in 1977, the fate of the building tugged on the heartstrings of Nashvillians who wanted to incorporate the preservation of the main terminal building in any plan for development.
In the 1980s, a group of investors decided to play fairy godmother to the landmark building by investing in it and turning it into a luxury hotel. It passed in and out of the hands of various owners, and finally on October 9, 2007, it was re-dedicated after an $11 million restoration and renovation.

Union Station Hotel Nashville, Autograph Collection, a member of Historic Hotels of America since 2015, dates back to 1900.
*****
Guest Historian Series
Read more about the history of Union Station Hotel, as told by Historic Hotels of America 2014 and 2015 Historian of the Year Stanley Turkel. Excerpt is taken from his latest book Built to Last: 100+ Year-Old Hotels East of the Mississippi (AuthorHouse 2013).